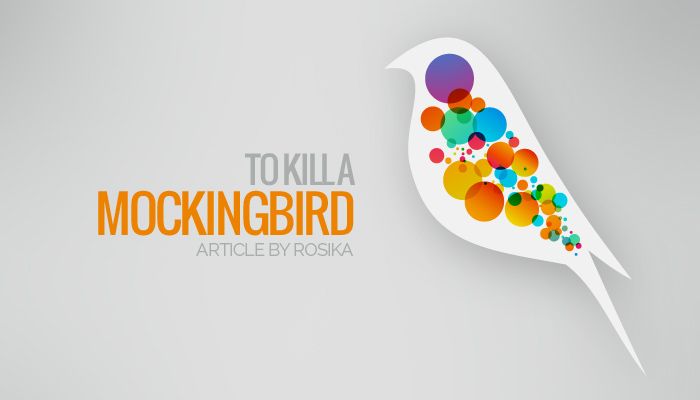 Mockingbirds are best known for the habit of mimicking the songs of some other bird species. And while we don't kill Mockingbirds and generally enjoy their beautiful singing, a parallel can be drawn to a kind of Mockingbird I'd love to get rid of: The Mockingbird Designer.
In my years of experience, every now and then, I come across a client that doesn't understand the concept of the working title "designer". This client will approve the project, send all the relevant information required and as always, I happily create a design that would represent the company and its values in a stunning visual ensemble. The concepts are sent to the client and they love it, but....
"I love this design, but could we please have fade out the edges of this photo and have a collage, and then could we please centre this title?" the client asks. And that's when I become a Mockingbird. So what's the point of this article? It's about trust. And here's why.
In the true sense of the word, the title 'designer', means that an individual is gifted with an eye for design, layout, creativity and construct. In fact, knowing how the design programs work and what buttons to click to get certain effects, is not, in my opinion, the process that makes my heart skip a little beat. The pleasure of my work is in the ability to create, to blend everything you are as a company, along with my years of knowledge of good design, and marry them into an ensemble that is not only functional, but informs, represents and inspires. This is the thrill of giving you something that carries a tiny bit of our own soul.
Yet, many clients, hire us rather for our 'know-how' of a design program. We end up copying the instructions of the client. Copy, paste, shift, repeat. Why then, did this client not become a designer themselves?
As a client, you have full right to review and request changes to a design that you're paying for, but there are some basic ground rules that both client and designer need to address prior to getting involved.
Clients have the responsibility of doing their homework before they appoint a designer. These are some key points to consider:

Unfortunately, there are far too many 'designers' who charge large fees and label themselves as a 'designer' because their office jobs didn't work out for them. Therefore, if you're shopping for a new designer, do your homework ask around for a good designer. People are very eager to share good contacts, since great service is fast becoming a rare commodity.
Google 'design trends'. A good start would be to look at the design work completed by large corporates who understand the value of spending large amounts on good advertising and design. Download some of their brochures and look carefully at the design, layout, effects used. If you like something you see, you could supply that to your designer as a guideline of likes and dislikes.
When you meet a designer, ask for examples of their work. See whether their work is in line with current trends.
Be clear with your designer on whether you're going to hire them for their design ability or whether you want them to implement a preliminary design you have in mind, but be prepared to be turned down by the purist designer who doesn't want to be a Mockingbird.
Have a decent budget. It's quite alright to only have a R1000 available as budget for your company brochure design, but if you value your own brand and envision yourself being unique, then you'll need to up your game. We're not saying all designs should carry a 'haute couture' price tag, we're simply pointing out that you can't buy a real Louis Vuitton handbag for R200.
Most importantly, if you're truly hiring a designer for their design abilities, listen to them. There's a reason they place things the way they do. Let go and trust them.
Designers in turn, should be clear on how they design and work:

Are you prepared to be a Mockingbird designer or does your pleasure derive from the value in design as opposed to really needing money?
Discuss concepts with the client before you start in order to get an idea whether your client likes the direction you're going.
Show them some of your completed works and watch their reactions. This is often a great clue as to the kind of design work they would like.
A collage of photos with faded-out edges is part of the 90's. And you know it. Be honest with your client and be strict on design trends, even if it means you're shooting down some of their ideas. You're the designer - take charge!
Nothing gives me more pleasure than working with a client who trusts me to do what I do best - design. For those who give me free reign, I have produced some of my best work. And though I am grateful to clients who are fully prepared to pay me for Mockingbird services, the value in being a designer far outweighs the money, and subsequently, I have since killed the Mockingbird designer.
Whether you're a designer, a mockingbird or a client, communication is key. Honesty is truly one of the best ethical practices. It's alright to say 'Thank you, but no."
As far as Aftershock is concerned, we continue to uphold our motto: No pretence. Just good design. Full stop.
Rosika is the founder and director of Aftershock Studios. She's been in design and front-end development since way back when the Dead Sea was still critical! Her design approach is simple elegance with an eye for strong abstract lines.