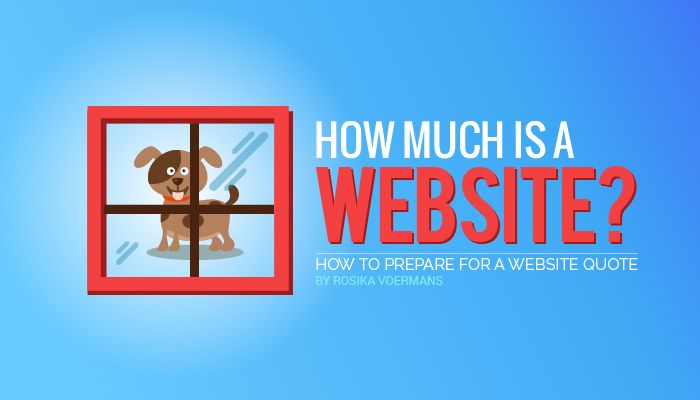 There's a certain type of phone call I receive regularly.
"Hello, how much is a website?"
Short pause. Mental sigh.
"The same price as 'that doggy in the window', sir."
Yes, you are a potential client and yes, of course we want to design your website. You might not like our initial answer and may even find it a tad too sarcastic for your liking, but if you're web shopping, please read on before you go hopping.
We're aware that some web design companies offer 'packages' with various fixed options, but this leaves little room for flexibility in terms of additional functionalities or even custom developing a website. So, how long is the proverbial piece of web string?
To help new clients understand this concept better, we're going to use a quick example:
A wedding venue caters for everything. A base fee is charged for the venue and each additional item or service added, increases the cost. Need a wedding cake? Well that will be extra. Do you want cupcakes or a 5-tier cake? Yes, there's a difference of R20 000 between the two options. Want flowers? Daisies or Orchids? Would you like a buffet or plated meals? Would you like a music recorder or a live violinist as the bride enters the church? Not only is each option added, but there is also a price difference between cost-effective or flagship options. Either which way, you end up paying more.
Websites work roughly the same way. Customising a website in alignment with your branding and corporate identity has a fixed rate (much like the venue rate in the above example). If, however, you require additional functionalities, such as the ability to login to a content management system and upload products onto your website with an online shopping experience, your costs immediately increase since you will now require database development. Do you want to be able to upload a single photo with every product (cupcakes) or would you need the flexibility of uploading unlimited photos for each product (5-tier cake)? Do you want to integrate YouTube videos (Orchids) into your news articles or will a static image (Daisies) suffice?
It could be daunting to explain all your needs to a web developer, but here's how you can remove the clutter and make everyone's life easy: it's called "A Brief".
What is a brief?
A brief is a document that you can supply to a website development company to assist them in sending you an accurate cost estimate and to better understand your requirements. Some development companies make a questionnaire available for you to fill in, but if you're shopping around, it's best to create your own brief.
What goes into the brief?
Here are 5 tips to help you prepare your brief:
1. Budget
We're always thankful for the opportunity to present quotations in hopes of developing a new website, but potential clients often don't understand the amount of work involved with quotations. Quotations are fully specified and includes every functionality that your website will include or not. It is very important that you share your available budget for a project right from the start for 2 reasons:
If your budget allows for daisies, but you want orchids, then there's really no point in letting the florist spend hours in creating sketches of potential orchid arrangements if it's not affordable.
Being upfront about your budget can assist a web company in possibly offering you alternative solutions if your budget doesn't allow for flagship options.
2. Your Business
Explain briefly what your business is about and what you hope to achieve with your website. Will it be a plain informational website? Or perhaps your aiming at starting an online shop? Who is your target market?
Depending on your goals for a website, there are certain 'unwritten rules' that apply in terms of a website should be designed or laid out. For instance, if you want an online clothing shop, then it would be a good idea to integrate various social media functionalities. As another example: a company seeking a simple 5-page website, will typically not require a search engine functionality on their site since we're not dealing with a library of web pages.
3. Breakdown of Pages
It's always a great idea to grab a pen and paper and draw up a simple schematic of your website. This helps you understand how your website will flow and be linked. Some key questions can be addressed here:
How many pages do I need for my site?
What options will my menu / navigation bar have?
Would I need any sub-pages and how many?
Are there any user login areas for my visitors? What about user-registrations?
Do I want a blog or news area with the ability to upload these myself?
4. Timeframe
Good design takes time, but this doesn't mean that your developers should spend hours finding faces in cloud formations in Namaqualand daisy fields. Timelines will give your developers a good idea of how to schedule a project and whether priority rates need to apply.

In some cases, web companies are not able to assist due to a fully booked workload and it's better to appoint a company who can comfortably schedule your project rather than rushing for completion. This avoids potential mistakes, allows creativity to flow freely and explore alternative solutions throughout development.

From loads of experience (because we know how long it takes clients to supply us with information and approvals throughout the design process), take whatever reasonable timeline you have in mind and double it. Then use that as a rough guideline in your brief.

5. Additional Services and Content
Content matters. It matters a lot! If you're blessed with good penmanship, then compiling content for your website should be effortless. For busy executives or those who deem creative writing as they would salt (square, hard and bad for your health), then additional services like copywriting might just be a solution.

More and more value is placed with authentic and quality content - whether on your website or running through various social media profiles. Copywriting, social media management, graphic design, photography, Google AdWord campaigns - all these services can be provided by skilled individuals who know about all things internet.

When you compile your brief, be sure to include any additional services that you think you may need.

Puppy Love Benefits
Designing a website is really a fun and creative process and should be experienced as such. If you address these fundamental questions in your brief, we're willing to bet that the process will identify items you haven't yet contemplated. Not only will help you visualise the end result more clearly with defined goals and great new ideas, but web developers will love you. And I mean LOVE YOU.
At Aftershock Studios, our best websites are the ones created with clients who are well-prepared with a mind-map in place. Forthright communication is key. If you use that key, all doors to the internet can be opened.
So, go ahead and give 'that doggy in the window' some puppy love - play, discover, prepare and make the quoting process easy.

Rosika is the founder and director of Aftershock Studios. She's been in design and front-end development since way back when the Dead Sea was still critical! Her design approach is simple elegance with an eye for strong abstract lines.